Background
SAPRO host the Recycled Plastic Product of the Year Awards, biannually, to raise awareness and showcase the wide variety of ingenious products that are locally designed and manufactured using recycled plastics. The event is a cornerstone of our strategy to grow the demand for plastic recyclate, and help improve market acceptance of locally manufactured recycled plastic products.
Over and above this, the Awards aim to
raise awareness of the versatility and progression in the application of recycled plastics,
educate and encourage brand owners and product designers to design products using recyclate and design products to aid the recycling thereof,
stimulate the appetite for the design and manufacture of more products made from recycled plastics,
inspire innovation and encourage new entrants into the market place, and
highlight the important role this industry plays in job creation, diverting plastic waste from landfill, litter prevention, to reduce the pressure on non-renewable resources and in growing the economy.
The Awards, first hosted in 2010, are firmly established as a must-attend event for key players in the recycling and waste management industry and our partners. As you may know, South Africa boasts one of the best plastic recycling rates in the world and each year the competition grows both in the number of entries and in the variety of different products being showcased.
The Best Recycled Plastic Product of the Year Awards also align with the launch of the  local Plastics Pact in South Africa. This initiative is being spearheaded by SAPRO and the World-Wide Fund for Nature (WWF-SA),with support from the Ellen MacArthur Foundation (EMF) and the Waste and Resources Action Programme (WRAP) and is an important platform for organisations to demonstrate their commitment to the environment and resource efficiency as well as alignment with global initiatives that work towards a circular plastics economy .
Winners 2019
This year a simple shipping pallet made from recycled plastic, manufactured by Palletplast, trumped twenty seven other semi-finalists winning the Awards
Dubbed "the Oscars of the Plastics Industry", the Best Recycled Plastic Product Awards were held on Monday, 04 November 2019 at Workshop17, V&A Waterfront Cape Town. The Awards recognize and showcase industry innovation and the wide variety of local products that are designed and manufactured using recycled plastics .
With production starting only this year, using PET trays, coloured bottles and other waste that to date has not been recycled, the Palletplast rPET Pallet won not only the Newcomer Award, sponsored by PlasticsSA, and Engineering Award, but was honoured as Overall Winner, exemplifying innovation in the full value chain and as a product that best showcases recycling of post-consumer plastics.
Winners of other categories included
Unilever's Sunlight dishwashing liquid bottle- manufactured from 100 % rPET- winning the Inclusive Award sponsored by Polyco (for products made from 100% post-consumer plastic collected, recycled and converted in South Africa)
Duro Stack's fibre-reinforced pallet- with 15 % of its recycled content comprising problematic multi-layer material waste stream winning the Number 7 Award (for products made from a mixed plastics, collected, recycled and converted in South Africa)
Premier Plastics's 100% recycled content supermarket carrier bag range- which made a switch from virgin materials to 100% recycled content in response to consumer and retailer demand, creating a market for 11 000 tons of recycled polyethylene in the last 12 months, aptly winning the Switch Award (for products that divert large volumes of postconsumer plastic from landfill)
Leading retailers Clicks, Shoprite Checkers, Pick n Pay, Spar and Woolworths, were awarded the Board Award (for commitment to collaboration and mutually beneficial innovation, changing the landscape in the production and consumption of single use plastics).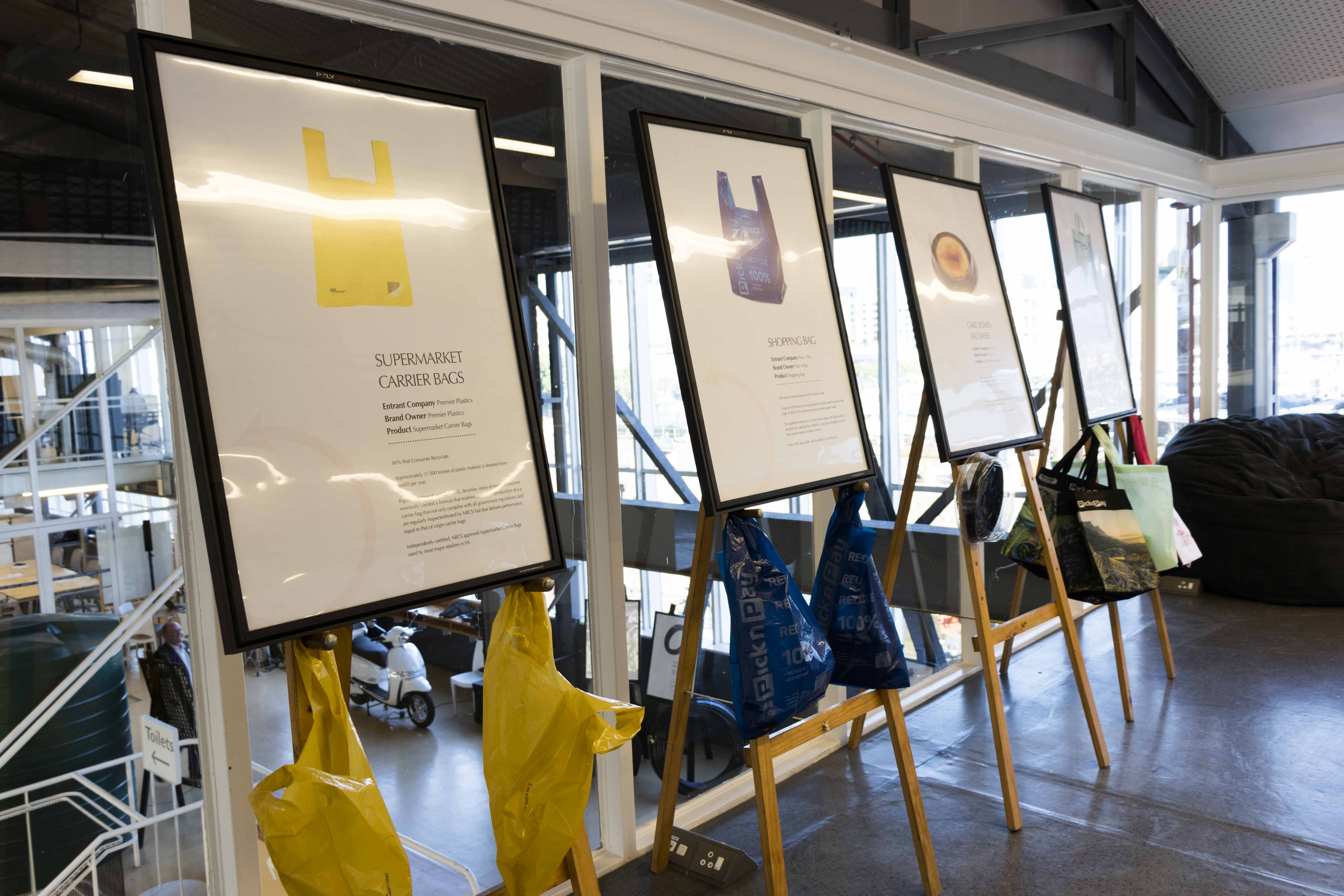 SAPRO commends  the efforts of these retailers for removing calcium carbonate from their shopping bags and the inclusion of at least  70% recycled material, making the bulk of the shopping bags on the market 100% recyclable. This signals that retailers are taking  Extended Producer Responsibility seriously, becoming stewards of our environment and ensuring that the costs of disposal of their products are not externalized. We see this, along with the adoption of a standardised approach to On Pack Recycling Logos, as noteworthy in signalling commitment to the South African Plastics Pact, markedly shifting the needle and pace in our transition to a new circular economy for plastics.

Along with Polyco as Gold Sponsors, the event was supported by Relloy Erema as Silver Sponsors, PlasticsISA as Category Sponsors as well as Venue partner Workshop 17, the Ad Shop, Skyland Masterbatch & Polymers cc and the PET Plastics Recycling Company (PETCO).  This is an ideal platform for organisations to demonstrate their commitment to the environment and resource efficiency as well as their alignment with global initiatives that catalyse change in industry. Working towards a circular economy for plastics, creating more jobs and business growth- together.
To get involved in 2020, please contact lisa@plasticrecyclingsa.co.za